We invite you to the Business Upgrade Forum 2023
05.07.2023
How does the business exist during wartime? Market experts will talk about the challenges, solutions, experience, and development of Ukrainian entrepreneurs very soon at the Business Upgrade Forum 2023.
Development Director of EFI Group, Serhiy Pinkas will speak at the forum and share the company's cases during the war. What challenges faced the investment company EFI Group? More interesting things about extraordinary solutions and achievements during global challenges.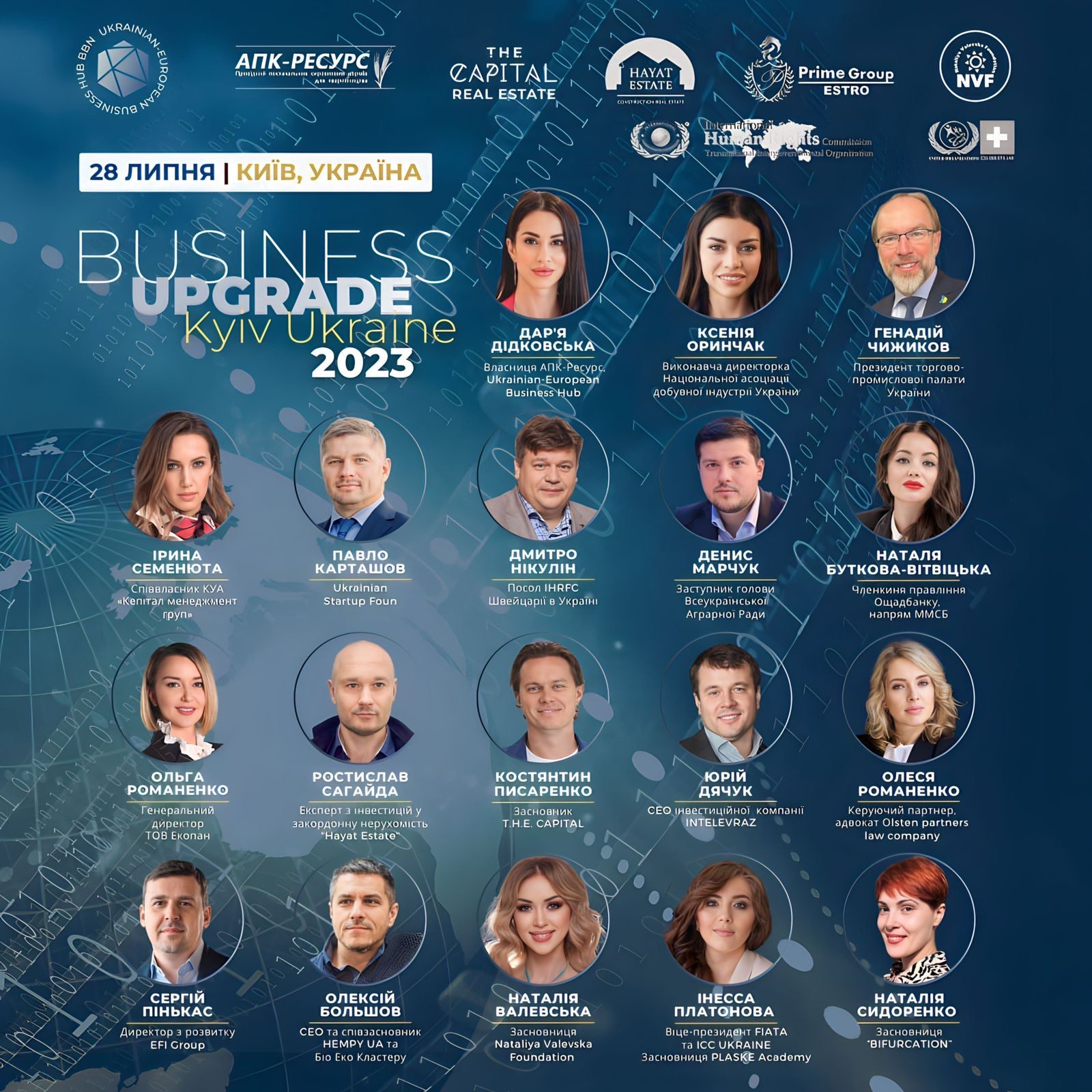 The purpose of the forum is to exchange experience, knowledge, and ideas of entrepreneurs and professionals from various industries. Where the most relevant issues, problems, and trends in business will be discussed.
How Ukrainian business recovered and adapted during the year of the war, challenges for business, and adaptation to new realities. How the war changes domestic business, state support, and prospects for the near future.
We invite you to register via the link: https://secure.wayforpay.com/payment/sdbb6fd07d12a
Key speakers of the event:
⠀
Darya Didkovska is the owner of Agrocompany APC-Resurs. Founder of Ukrainian European Business Hub. Businesswoman with 18 years of experience.
⠀
Ksenia Orynchak is the executive director of the National Association of the Mining Industry of Ukraine.
⠀
Iryna Semenyuta is a co-owner of the asset management company "Capital Management Group", a financial advisor in business structuring and attracting investments.
⠀
Pavlo Kartashov is the director of the Ukrainian Startup Fund.
⠀
Gennadiy Chyzhikov is the president of the Chamber of Commerce and Industry of Ukraine.
⠀
Denys Marchuk is the deputy chairman of the All-Ukrainian Agrarian Council.
⠀
Olga Romanenko is the general director of Ecopan LLC.
⠀
Natalya Butkova-Vitvitska is a member of the board of Oschadbank, responsible for the direction of MSMEs.
⠀
Rostyslav Sagayda is an expert in foreign real estate investments "HAYAT ESTATE", a practicing investor with many years of experience.
⠀
Kostyantyn Pisarenko is the founder of the real estate agency T.H.E Capital.
⠀
Yuriy Dyachuk – CEO of the INTELEVRAZ investment company, partner of INTELEVRAZ property management, investment banker, and investor.
⠀
Olesya Romanenko is the managing partner of Olsten partners.
⠀
Serhiy Pinkas is the development director of EFI Group.
⠀
Oleksiy Bolshov is the CEO and co-founder of the first HEMPY UA eco-industrial park in Europe and the Bio Eco Cluster.
⠀
Nataliya Valevska is the founder of the Nataliya Valevska Foundation.
⠀
Inesa Platonova – vice president of FIATA – an international non-governmental organization in the field of logistics with more than 6,000 participants from all over the world, vice president of ICC UKRAINE, founder of PLASKE Academy.
Natalia Sydorenko is the owner of the "BIFURCATION" project.
Dmytro Nikulin – Ambassador of the IHRFC of Switzerland in Ukraine.
We are waiting for you at the forum!